Created by Yves Michaud in 1958,


LUNE DE MIEL®

is the oldest and most emblematic brand of Famille Michaud Apiculteurs
It bears the mark of the dedicated man who revolutionised beekeeping by perfecting innovative techniques such as migratory beekeeping.

Since then, year after year, each of the family members at the head of the company has made a contribution to top the tables of generations of epicureans. As early as 1965, Bernard Michaud won a spot on supermarket shelves for Lune de Miel® honey, giving everyone the chance to taste a 100% pure and natural product, guaranteed*.

Many years later, his son Vincent took note of changing consumer habits and, in 1992, invented the first squeeze bottle. It was a revolution that won a Packaging Oscar in 2000. Even today, this convenient bottle in the shape of a drop is still used to contain the famous Tartimiel®.
Friendliness and innovation are part of the Lune de Miel® DNA.
Lune de Miel® brings together exceptional honeys, produced by healthy bees who live in areas protected from pollution. Harvested from amongst the best varieties of trees and flowers, Lune de Miel® offers an entire palette of honey flavours. Wildflower honey, acacia honey, royal jelly, Tartimiel, and many more ensure there is something for everyone !
And since Lune de Miel® listens to its consumers, the brand has expanded to include new products.
YOU KNOW…

DISCOVER OUR INNOVATIONS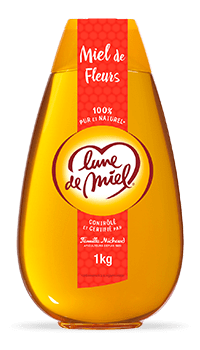 This wildflower honey in a 1kg dispenser is the ideal product for devoted epicureans and large families !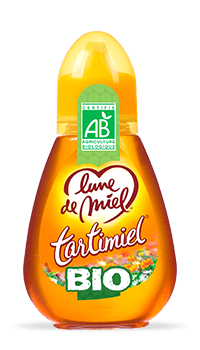 Organic honey is now within reach :
with its clever, convenient dispenser, organic Tartimiel® honey is perfect for breakfast with the family, snacks with your kids, or to sweeten hot beverages.