How can we sum up 100 years
and 4 generations of know-how
in beekeeping,
honey, and flavour ?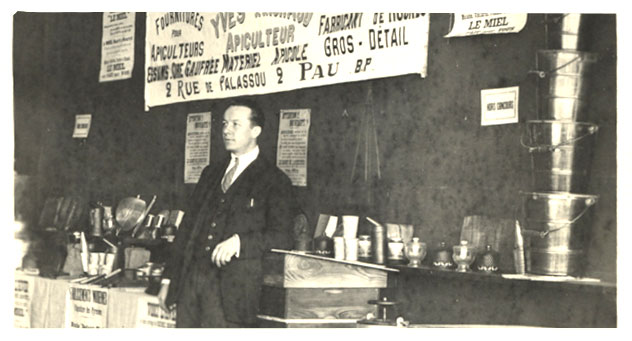 First, we can thank Yves Michaud, who founded the Famille Michaud Apiculteurs company in 1920.
Both an engineer and a beekeeper, this devoted, inventive man revolutionised beekeeping by perfecting migratory beekeeping along with many other unprecedented techniques.
This pioneering, independent spirit, and the constant quest for quality, are the essence of the
Lune de Miel®

brand, created in 1958.

Over the years, more and more of the honey being jarred is rare, precious, and bursting with flavour. From wildflower honey to eucalyptus honey, as well as royal jelly and propolis, every product is a pure, carefully inspected extract of nature. As the company gets passed down from one generation to the next, to Bernard and then to Vincent, Famille Michaud Apiculteurs multiplies its innovations, both in harvesting honey and packaging it.
Today, as the
European leader

of natural sweeteners and a household name around the world, Famille Michaud Apiculteurs is a key player in the development of beekeeping in France.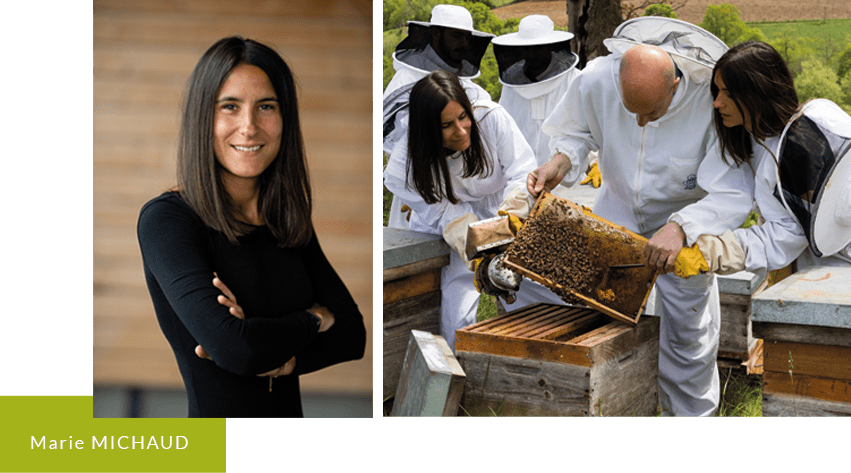 Backed by a valuable heritage and driven by her commitments and vision of the future, Marie, a member of the family's fourth generation, is writing new pages in the company's history.
Our key events
Yves Michaud, engineer & beekeeper, founds the Famille Michaud Apiculteurs company. Moving his hives according to seasons and crops, Yves Michaud becomes the pioneer of migratory beekeeping and develops unprecedented techniques.
After the acacia harvest in the Atlantic Pyrenees, Yves Michaud conducts the first migratory beekeeping transfer by moving his hives to the Landes to collect heather honey.
Yves Michaud exhibits his production of beekeeping equipment and honeys at the fair of Southwest France.
We expand our beekeeping activity by creating an automated jarring line. Famille Michaud Apiculteurs opens its first sales offices in Paris, on rue d'Aboukir.
The Lune de Miel® brand is created. Today it has become the leading honey brand with French consumers, accounting for 32% of market share. Lune de Miel® is the most widely distributed brand in the world, present in 59 countries, with 28 million jars of honey sold each year.
Our Famille Michaud Apiculteurs company inaugurates its first modern site in France, in the hills of Guindalos, where its honey is to be packaged. Yves Michaud, the founder of our company, passes away. Not long afterwards, Bernard Michaud, his son, takes the helm of the company.
Bernard Michaud, the company's CEO, establishes the Lune de Miel® brand in modern distribution, which is growing during the same period.
We continue our quality endeavour and create France's first private honey laboratory, in-house. This laboratory gives the Lune de Miel® brand a way to guarantee a level of absolute quality.
We decide to sell the honey we produce, as well as that produced by our French and local partners, under the Miel l'Apiculteur® brand. This brand highlights French terroirs and those found close to our honey packaging facility.
We open up to the world market by selling our jars of honey outside France. The success is instant for Famille Michaud Apiculteurs. Starting that year, we also sell honey in conical cardboard tubs similar to those sold by the company at the beginning of the century.
Vincent Michaud, the founder's grandson, takes over the family business. He sets up a dynamic innovation policy with the goal of turning honey into a delicacy, highlighting single-flower honeys of exceptional quality in small containers.
Bernard Michaud, the founder's son, retires and passes down his passion and knowledge to the fourth Famille Michaud Apiculteurs generation. The family's story continues.
We revolutionise the way honey is used by creating the first squeeze bottle with the characteristic shape of a drop of honey. Through this innovation, our Lune de Miel® brand changes consumer habits for honey, and our Tartimiel immediately becomes the most successful honey product sold in France.
Tierra y Oro, the first Famille Michaud Apiculteurs subsidiary, is established in Madrid, Spain. Our decision is to adapt the brand to the Spanish market by naming it Luna de miel®. Luna de miel® honeys are positioned as top-of-the-range products, thereby aligning perfectly with the changing expectations of Spanish consumers.
We fine-tune a method to preserve a high percentage of royal jelly within honey. Royal jelly, the queen bee's only food source, is highly coveted for its exceptional qualities. Honey that includes royal jelly is one of the unique products that our consumers love the most.
We carry out an extensive promotional operation to help consumers discover honey in retail outlets. At each event, a living hive is displayed under glass along with a single-flower honey tasting. Famille Michaud Apiculteurs also offers a delicious gingerbread baked using traditional methods.
Lune de Miel® changes its packaging. The brand sells 100% bee-made honey without the slightest additive or processing. In recognition, we adopt the orange-hued honeycomb that characterises honey in the hive.
Products from the hive were used to treat illness as far back as the time of the Pharaohs. Lune de Miel® draws inspiration from this ancestral know-how to offer a complete range of natural products whose beneficial properties have been known since antiquity.
We leave the original site created by Yves Michaud, the company founder. Our Famille Michaud Apiculteurs company moves into a natural setting in the foothills of the Pyrenees, to keep pace with its rapidly growing business.
After years of research, we perfect the first squeeze bottle with a silicone valve in the cap for the "Les Savoureux" range of Lune de Miel® honey. This type of packaging is a world first, and we are awarded the Packaging Oscar in 2000. This innovation will be adapted for several other products, including ketchup, mustard, and cosmetics.
As a result of our hunt for the world's best honeys, we discover another exceptional product: maple syrup. A partnership is launched with Canadian producers and we create the Maple Joe® brand, the leading brand in Europe. The brand with its characteristic bottle is present in more than 55 countries.
Our Lune de Miel® "Well-being" range is completed with a range of products in squeeze bottles: aloe vera, green propolis, etc. We want our consumers to be able to enjoy all the benefits of these products by making them easy to use.
Establishing our company in the United States and in Japan leads us to create packaging intended to showcase the very high quality of French products. The result is Miel Tradition in metal buckets. It international success leads us to create a cardboard tub version for the French market.
Since we care about going the extra mile to guarantee the purity of our honey and protect bees, we establish a charter called "Apiculture en Terroirs Préservés". It brings together 500 partner beekeepers who committed to eight quality requirements. Printing a batch number on each container of honey gives consumers a way to trace the honey back to the hive via the internet.
We establish a subsidiary in Milan, Italy. Here as well, all products are adapted to Italian consumers and the brand becomes Luna di Miele®.
Lune de Miel® sells only good honey made with love, and the brand has to express this simplicity.
Lune de Miel® makes its television début: Lune de Miel®, love and good honey, an eight-second commercial that shows how convenient it is to use the Lune de Miel® squeeze bottle to release completely natural honey: 100% honey, 100% convenient. In the same year, we sell our first organically produced honeys.
Our third subsidiary, Michaud Nordic Distribution, is founded in Stockholm, Sweden. Our ambition is to sell our products throughout Scandinavia. Unlike in the Southern European countries, we choose to sell our products under the Lune de Miel® brand, which is now one of the leading brands on the Scandinavian market.
In our constant search for practicality and our commitment to always listening to our consumers' needs, we develop the first doypack packaging: soft, environmentally friendly, and affordable. It is met with great success in Northern Europe, where consumers feel very strongly about environmental protection, and is now the leader in Sweden
We strengthen our commitment to sustainability through organically produced, fair trade honey that bears the Max Havelaar seal of approval.
We discover a new natural sweetener with exceptional properties: agave syrup. Agave syrup is the best way to sweeten products naturally since it dissolves instantly and doesn't alter the flavour of food. Sunny Bio® and Sunny Via® quickly become the leaders in this new market.
We create our German subsidiary, Familie Michaud Deutschland GmbH, in the city of Cologne. The products are made in France and sold through the subsidiary in Germany, Benelux, and Austria.
We set out to conquer Asia. To meet the demands of Asian consumers, who seek high-quality, top-of-the-range products, we develop small 100g packages with a travel-friendly dispensing system. The rapid expansion of the middle and upper-middle classes in China allows us to double our sales every year.
Following requests from Japan, China, and Taiwan, we create fun, convenient packaging designed for children: the Lune de Miel® bear. This new product, initially created for export, is also met with great success with children in France.
As the leader in European honey, our Famille Michaud Apiculteurs laboratory earns COFRAC accreditation in compliance with the NF EN ISO/CEI 17025 standard. In the food processing industry, Coca-Cola had, until then, been the only company to become compliant with this standard, which guarantees that laboratories operate with the highest level of skill.
2013 is a critical year for beekeeping with honey production down drastically in France. The Miel l'Apiculteur® brand, which sells French honeys, greatly struggles to meet customer demand. Despite the difficulties, the high quality of the products is distinguished even further with the creation of a new conical glass jar similar to the cardboard tub, engraved with a bee to set it apart and to symbolise the exclusive origin of the product.
A dark year for beekeeping in France. Honey production in France is only one third of what it was twenty years ago. In the face of this disaster, we take action and create the Fondation Lune de Miel® under the aegis of the Fondation de France with the objective of protecting bees and saving beekeeping. We grant €500,000 to this foundation over a period of five years.
Famille Michaud Apiculteurs innovates in an increasingly demanding market: the Maple Joe® 400g doypack, a convenient and affordable format.
Famille Michaud Apiculteurs innovates in an increasingly demanding market: the Maple Joe® 400g doypack, a convenient and affordable format.
Famille Michaud Apiculteurs reasserts is position as a pioneer by becoming the world's first player in the honey sector to adopt NMR technology.
Famille Michaud Apiculteurs offers its new "Miel de France" honeys. For four generations, the company has been selecting honeys and inspecting them to ensure they are 100% pure and natural, in compliance with regulations. "Miel de France" is obviously in line with the quality commitments of Famille Michaud Apiculteurs: these honeys are guaranteed to be made in France, without pesticides, antibiotics, or added sugar.
A new adventure begins for Famille Michaud Apiculteurs with the inauguration, in June 2019, of the new environmentally friendly maple syrup facility in Thetford Mines, Quebec: Appalaches Nature®. Born of a partnership between our family business and the Dubois' own family business, Biodélices, this cutting-edge facility is located in the midst of the highest concentration of sugar maples, in the Chaudière-Appalaches region.
We gave ITSAP a cheque for €126,331. Our financial participation, which helps maintain the structure, is proof that we care about getting involved in scientific studies to better protect bees.
Famille Michaud Apiculteurs, proudly becomes the 118th member of the "PME+" community of French companies committed to humanity, employment, environmental protection, and regional solidarity!  The seal of approval was awarded to our company after a complex procedure.
Famille Michaud Apiculteurs experiences a new stage in its history and evolution when Marie Michaud is named as the company's General Manager, exactly thirty years after Vincent Michaud took over the company from his father Bernard and one hundred years after it was founded! A family pact is truly what defines the DNA of our SME, which has been passed down through four generations! Alongside her sister Julie Michaud, Director of Human Resources, Finance, and Management Auditing, Marie is carrying on the company's approach to business, society, and the environment, placing people and innovation at the centre of her commitments.
Famille Michaud Apiculteurs guarantees food safety while also developing the solutions of the future and a circular economy model. 2020 innovation: a 100% rPET tub, 100% recycled and recyclable. This recycled material contributes to limiting greenhouse gas emissions and saving up to 60% more energy!
Famille Michaud Apiculteurs is thrilled to welcome a new member to the strategic committee of the Fondation Lune de Miel® in Ariane Massenet, the celebrated journalist and actress. She is particularly sensitive to environmental issues and biodiversity.