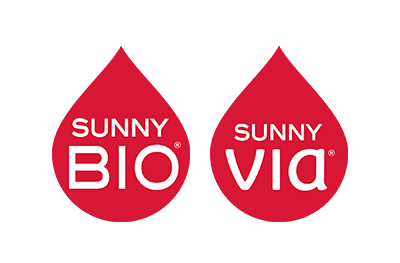 IN THE MEXICAN DESERT OF THE JALISCO REGION GROWS A GENEROUS PLANT KNOWN AS

BLUE AGAVE OR AGAVE TEQUILANA
Local agaveros have always extracted the sap to produce agave syrup, recognised as a natural sweetener in the 1980s.
Sunny Bio® and Sunny Via® choose the best agaves to guarantee a unique taste. Their harvesting process is an expert blend of patience and know-how. Blue agave lives for seven to eight years. After four years, the plant produces a floral spike in its centre. This is called the "quiote". After being severed by hand, the nutritive elements that would have irrigated the flower accumulate in the centre of the plant, and then our partner agaveros harvest the sap.
This is how Sunny agave syrup comes to be, used in the Sunny Bio® and Sunny Via® brands. An excellent health food product, agave syrup boasts a low glycaemic index and provides a flavourful solution for consumers who care about their health. As part of a balanced, varied diet, it's a subtle product that doesn't alter the taste of food it is used to sweeten.
AS THE ULTIMATE HEALTH FOOD PRODUCT, AGAVE SYRUP BOASTS A LOW GLYCAEMIC INDEX.
For more than ten years, the Sunny Bio® and Sunny Via® products have formed a subtle blend of nature, health, and delicious flavour. Now you can enjoy something sweet, guilt-free !
You know…

Discover our innovations